Pages from my Diary :)

Year - 2012
26 Nov.
Today Sold my Asiatic Lion Cub drawing and so pleased that it found new home in U.K. :).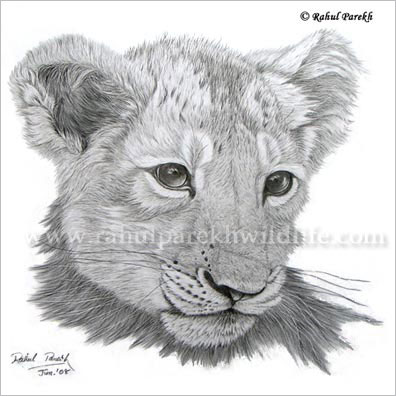 22 Oct.
So pleased to inform you that now Wildlife Art of Rahul Parekh is available on all old and new smart phones as Mobile Web App. It's best viewed on iPad / iPhone / Blackberry / Android / Windows Phones & Tablets. Please visit here to enjoy it on your mobile devices :).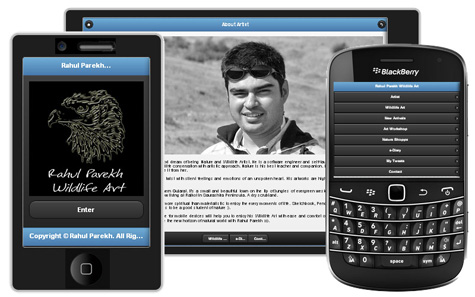 13 Apr.
I've started 'Save House Sparrow Project' by inspiring from successful nesting at my studio. I request you to please contibute your help to save our little wonders by giving them safe & peaceful atmosphere at your home too. Please check above link for more information to join in this campaign actively. Your help & support be much appreciated :).
7 Apr.
So delighted to let you know that fouth breeding of house sparrow couple is successful & now listening sweet chirping of 2-3 chicks in nest box & other good news is second couple has almost finished their nesting & now ready to lay eggs at my studio. Looking forward to fifth successful breeding in next month :o)).
02 Feb.
Planning for visiting Gir NP with friends :). Concerned matter is Camps & Resorts around the park has increased their tarrif so much & Forest Department has also increased the Safari charges to almost double too after recent arrival of President, Vice-Presicent & Amitabh Bachchan for Gujarat Tourism Ad!! I can't afford any resorts or camps now, so still searching for affordable accommodation...Have to reduce my field work days to stick to my budget :(((.
20 Jan.
Busy in launching Limited Edition Fine Art Prints. More prints are coming soon :).
01 Jan.
Happy & Prosperous New Year. Wish you all a beautiful, peaceful & successful year ahead :).
Year - 2011
25 Dec.
Merry Christmas to you all my friends & fans :).
26 Oct.
Wish you all a very Happy Diwali & Prosperous New Year. May your coming year brings lots success & happiness in your life :o))
07 Oct.
A Serious Thought: Plastic is boon for the human lifestyle but it's our responsibility to not make it curse for the Nature & Wildlife. Sensible use, adopting alternate material & recycling are means to keep our environment healthy & pure :o).
06 Oct.
Happy Vijaya Dashami to all. Kill 'Ravana' that live inside you & make your heart & soul clean & beautiful like river :-).
01 Oct.
A Serious Thought: When you are taking photograph, don't just look into the viewfinder. Give opportunity to viewfinder to compose your heart as well :o)).
28 Sept.
A Serious Thought: Never try to read the painting first, instead feel it. When you start feeling the emotions of the painting, you'll able to easily read the hidden message itself :o)).
27 Sept.
A Serious Thought: Whenever you wish to purchase an Artwork or any Creative Work. Please purchase it directly from the True Artist. This way you can support Artist as well as you'll get authentic Artworks on your hard earned money :o))).
5 Sept.
A Cat & Kitten at home :-). Both are very shy. Gave milk & they'hv drink little. Kitten is all black & very cute too :o). Also Nesting of House Sparrow is again started at my home :o)). This time in new nest box. I'm so excited & happy :))).
15 Jul.
So pleased to inform you that Rahul Parekh Wildlife Art is now associated with Green Tree Eco Conservation Fund to support & empower Nature Cosnervation Activities :)).

Year - 2010
07 Dec.
My New Artist Studio :o)). Work is continue and busy sorting out all the stuff to make it Creative, Beautiful & Full of Love for Nature & Wildlife... :o))). Feeling like new year will be full of work & no time to peep around :-))
05 Nov.
I hate Diwali Nights >:-((( Idiots were playing with firecrackers till 4am!!!! Making so much air & noise pollution...My throat is having swelling & aching. Feeling poorly now!!! but happy part was to see a beautiful and loving pair of Rose ringed Parakeets at early morning in front of my home. They were kissing & looking so graceful :o))) xx
03 Nov.
Wish you all a very Happy Diwali Festival :-)
21 Sep.
I'm busy selecting Frames...Difficult task though ;-)
20 Sep.
Biggest day of my life :o))). I associated with my friend & Wildlife Artist Susan Shimeld's Larmer Tree Studio & Gallery, U.K. Now my 'Twany Eagle' Print is also available in U.K. Please visit www.natureinart.com for more information & to purchase Susan's lovely Wildlife Art :o)
17 Sep.
Preparing to launch my new Open Edition Fine Art Print of 'Tawny Eagle' Drawing. Published by Pier Gate Prints U.K.
19 Aug.
Days come to life. It was really difficult time and feeling poorly. Looking forward to work again in my studio happily :o)
01 Aug.
Happy Friendship Day to All :)
30 Jul.
Visiting Physio every morning and all day exercise routines..!!! Wish all will be fine and I'll get back to my routine work in studio very soon :o)
24 Jul.
Indian Rupees now have new symbol. I'm so happy :-))) I'll soon replace my Rs. word to

`

.
18 Jul.
I'm really feeling free & happy now as my Toe pain is almost healed and also created some Abstract Wildlife Art too :-)
12 Jul.
My toe is really behaving badly. It's become painful again and now I can't walk easily or go out to enjoy monsoon :-(((
04 Jul.
After days of hectic work I finally manage to include my very first Fine Art Print to sell online. I'm so excited and happy today. I must say BIG thank you to my sweet Didi Su and my great friend Kerry for their great help and support all the way to make it possible :o))) xxxx
25 Jun.
Today Domestic Cat has killed one more pigeon on my terrace...now enjoying her meal... This is okay until she don't kill any other birds as Pigeon are in good numbers here and in this way their population keep in control :)
23 Jun.
Tiger painting is on hold for a while but will soon start working on it in 2-3 days :-)
22 Jun.
I'm feeling truly blessed...getting so much support & encouragement from my lovely friends in starting of my new venture. Friendship is Priceless. I love my friends :o))) xxxx
18 Apr.
After a long time updating my diary. Was working on my abstract drawings and paintings. I'll soon update Abstract Art section. Now preparing for my next 28" X 21" Tiger Portait :). BTW Indian Summer is too very hot. Almost 43' C. OMG!!!
18 Feb.
Happy with the progress of Asiatic Lion Portrait. Finish line is very near now :)
23 Jan.
WhooHooo! bought new easel and canvas today. loving it :o)
18 Jan.
Feeling Creative...Thinking to do something different. Will soon show my new & first time experiments. Preparation is almost complete. Hope for the best now :)
09 Jan.
At the moment watching two young deaf & dumb boys talking in sign language from my window. Both are smiling, laughing and sometimes being serious but still there is no sound. Complete Silence & Peace...though so much to talk & express :). Feeling very happy to see them communicate so easily. Bless them... :)
01 Jan.
Wish you all a very happy and Joyful new year. Have a beautiful life :o)
Year - 2009
15 Dec.
Today was really lovely. Start my process to bring lion come to life...
13 Dec.
At late night 12:30 AM seen Spotted Owlet near home with my New Binoc. What a lovely start of the Day...
08 Dec.
Whooo Hooo...Today completed my drawing of Lion...Soon start working on my painting process...Keep looking my Studio Page for new Lion Portrait on easel...
07 Dec.
I was very excited today with my lion drawing. It was really fun to draw after my last big Blackbuck painting. Within a day or two will complete my drawing...
04 Dec.
Preparation of my next Asiatic Lion Project completed...
29 Nov.
Today was really very lovely day. I went for birding and it was enjoyable and successful too. I've seen Large Grey Babbler, Larks, Common Stonechat, Rufous Treepie, Eurasian Spoonbill, Painted Stork, Yellow Wagtail and Greater Coucal...
27 Nov.
Today completed my Blackbuck Antelope Painting... 'The Contender'. Now will start working on my next project and also feeling relaxed too...